Clem Finch was born July 4, 1915; received his BA degree for Union College (Schenectady, NY, 1936) and his MD degree from the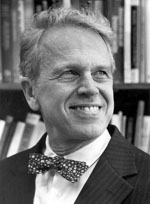 University of Rochester (1941). After internship, residency and a one year fellowship at the Peter Bent Brigham Hospital, he spent 3 years on the Harvard Medical school faculty before coming to the University of Washington in 1949 to head the Division of Hematology.
Widely known for his many scientific contributions, his 345 publications include investigations of the physiology of renal damage following intravascular hemolysis and of methemoglobinemia and sulfhemoglobinemia. Most remarkable about Clem was his astuteness as a clinical observer. He also was a spectacular mentor, teacher, and role model. His physiological classification of anemia and polycythemia, resulting in the "Red Cell Manual," was the University of Washington medical student textbook for many years.
His 32 years as Division head and many years that followed were memorable to all. Despite these remarkable achievements, he was always modest and humble. Clem epitomized the ideal of the physician-scientist. Dr. Finch died in 2009.